PanARMENIAN.Net - The anti-Armenian sentiment in Azerbaijan has reached our days too, with the European Commission describing Armenians and their community as "the most vulnerable group" in the Caspian Sea country "in the field of racism and racial discrimination".
While cases of racist and inflammatory speech targeting Armenians by the media, members of the general public and politicians has reached a new high amid hostilities, archival news stories from 100 years ago and more reveal a stark difference between the image of a tolerant society Azerbaijan pretends to have built and the reality.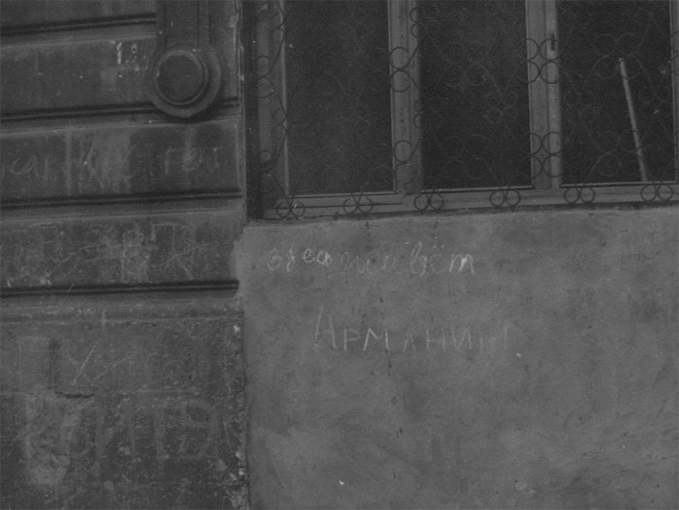 "An Armenian lives here" – the inscription on a building in Baku, January 1990. © K. Martens
Less than two years after the 1918 massacre in Baku, which claimed the lives of thousands of Armenians, an account by American military man and diplomat William N. Haskell from May 1920 reveals that the Armenians living in the city were again facing extermination.
Back in 1920, when Colonel Haskell was Allied High Commissioner to Armenia, news of persecution of Baku's Armenian inhabitants at the hands of the Azerbaijanis reached the U.S. and was covered by The New York Times: the situation of the Armenian residents of Baku was critical.
"Crimes of every type are committed daily against the Armenians by local minor officials and natives of Baku. The rich Armenians are muleted of large sums under various pretexts. Armenian shopkeepers are robbed by Azerbaijani soldiers, Baku police, or any one so disposed, without redress," the military man was cited in an article dated May 3, 1920.
"The Near East Relief guard on one train reports that Armenians were dragged from the train and butchered before his eyes. Travelers by train point out the Armenians to the Azerbaijani Moslems at a thousand rubles a denunciation. (At the rate of exchange of the time, 1000 rubles was a little less than $5.) The slightest incident is liable to cause a general uprising of the Azerbaijani populace, resulting in the massacre of the entire Armenian population of Baku."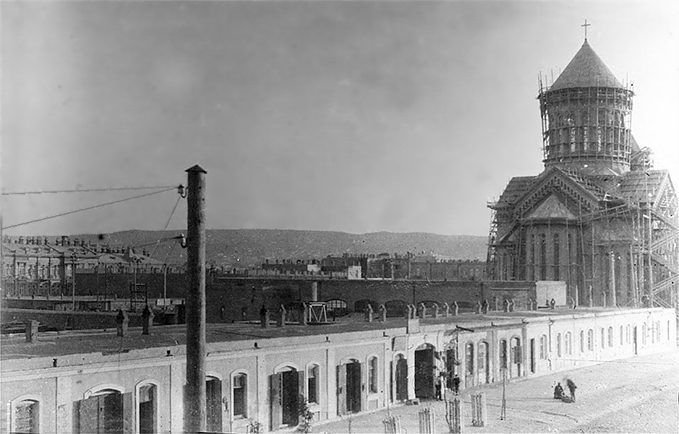 The St. Thaddeus-St. Bartholomew – designed by Hovhannes Katchaznouni, who would serve as the first prime minister of Armenia in 1918-1919 – under construction in Baku in 1910-1911; it was torn down in the 1930s.
According to the source, the crisis in Baku 100 years ago was the result of hostilities in Nagorno-Karabakh, although Azerbaijanis' decision to attack Armenians living in the same city was beyond him. Haskell went on to say that "the Armenian inhabitants of Baku are facing extermination although they are peaceful and law-abiding".
Armenians once formed a sizable community in Azerbaijan but their numbers dwindled as a result of a series of massacres, most notably the Sumgait pogrom in February 1988 and the Baku pogrom in January 1990, which put an end to centuries-old Armenian presence in the territory now occupied by Azerbaijan. Armenian traces in Azerbaijan are now erased.