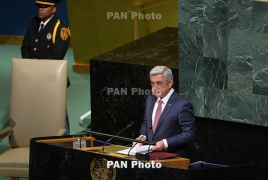 September 20, 2017 - 10:44 AMT
PanARMENIAN.Net - Armenia will declare the protocols on the normalization of ties with Turkey 'null and void' in spring of 2018, president Serzh Sargsyan said in his message during the 72nd session of the UN General Assembly on Tuesday, September 19.
"We have never made the recognition of the Armenian Genocide a precondition for the normalization of the bilateral relations between Armenia and Turkey," Sargsyan said.
"Moreover, it was upon the initiative of Armenia that a normalization process was launched, resulting in the conclusion of the Zürich protocols in October 2009."
"Up to this day, those documents have not been ratified, instead, they have landed in some dark drawers of the official Ankara. The government of Turkey came up with preposterous preconditions for their ratification that run counter to the letter and spirit of the Protocols. I expressed the clear-cut views of the Armenian people on this issue three years ago, when I spoke from this eminent podium.
"Now it's high time for additional explanations. Turkish authorities are mistaken if they think that those documents can be held hostage forever and ratified only on the most opportune occasion from their point of view. The Protocols were negotiated in certain circumstances in order to find solutions to the actually existing issues.
"Armenia will declare those two Protocols null and void since they continuously lacked any positive progress towards their implementation. We will enter the spring of 2018 without those, as our experience has demonstrated, futile Protocols," Sargsyan declared.