In November 2004, the crew members: pilot-in-command Ashot Karapetyan, co-pilot Samvel Darbinyan, navigator Samvel Machkalyan and mechanic Razmik Khachatryan, as well as technicians Suren Muradyan and Ashot Simonyan were sentenced from 14 to 24 years in prison. The following 15 months they spent in Black Beach jail, waiting for justice. As it was found out later, the Armenian crew were used as puppets by the South African company that rented the aircraft. It's noteworthy that Mark Thatcher, the son of former British Prime Minister Margaret Thatcher, was among those accused of coup plot.
PanARMENIAN.Net spoke to one of the pilots, Samvel Machkalyan, who shared his memories about the days spent in African jail.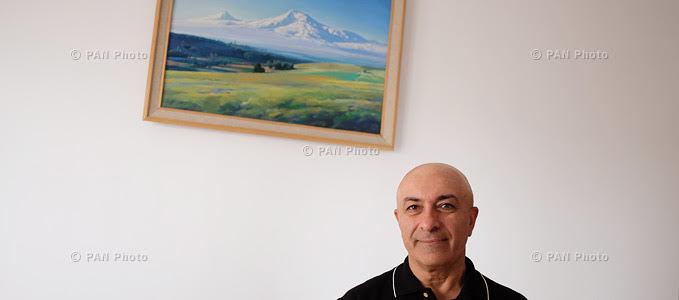 I have been in aviation for 30 years, starting with 4 years aboard of AN-24 in Dagestan. Then I spent 9 years in Yerevan, flying on TU-154. During the past 15 years I served as navigator aboard IL-86. In 2004, when the Armenian Airlines went bankrupt, I trained to navigate AN-12 and, finding no other job, traveled to work in Africa. The aircraft operated there were over 40 years old and although our AN-12 was repaired in Uzbekistan, it also proved outworn.
In January 2004 we flew to Egypt's Luxor city where we refueled our aircraft and returned to Malabo, the capital of Equatorial Guinea, which is an oil-rich authoritarian state. Every several months we used to hear about coup d'état attempts, while the President threw all his rivals to prison. I remember a minister who was jailed like us. Some of the inmates received education in the Soviet Union and we were able to communicate.
The whole story started when Armenian airline Tiga Air, which owned AN-12, signed a lease agreement with Germany's CAL (Central Asian Logistics) to operate flights in Equatorial Guinea. The German company, in turn, leased out our aircraft to a South African firm.We were not aware of these details at that time. We just signed a contact and knew only that we are going to Africa for work. We were told that we must transport cargo from Equatorial Guinea to other countries and vice versa, as well as fly over ocean to detect shoals. The South African company also owned a small fish boat and said it ran fishing business. It was much later when we understood that they had other plans as well.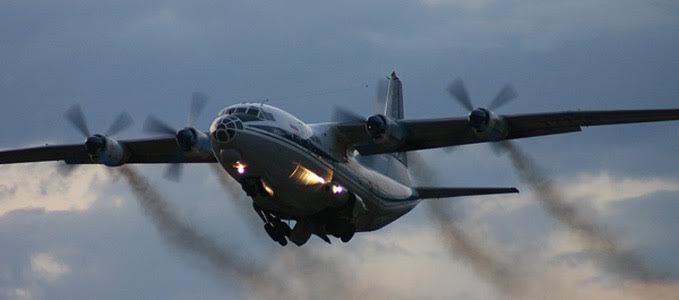 AN-12 aircraft
We finally arrived in Malabo and waited for other orders but a months passed by and we were staying idle. We were told to wait. We then learned that the South African firm also leased a Ukrainian aircraft, however, the Ukrainians went back after waiting for a month and receiving no offer. I tried to persuade our captain to go back, as staying there made no sense, but other crew members, former employees of Erebuni airport, were determined to stay because they had to provide for their families and could not find any job in Armenia. We got a guaranteed salary of about $1000 per 60 flight hours and our colleagues preferred to stay and get this money, even without working. However, we were paid for the first month only.
At the end of the second month we made our first flight to Zambia to bring cargo from there. Minutes before taking off a diseased man was stretchered into the plane and we were asked to transport him to Douala city in Cameroon for an extra fee. A representative of the German company, Gerhard, was with us, and dealt with the issue. While landing in Douala, our aircraft was damaged – one of the landing gear harnesses got broken. After repairing it anyhow, we took off but due to bad weather conditions were forced to land in Congo and only after that reached Zambia, where we were given a room in a rather nice hotel. After staying there for a day, we understood that no cargo exists. Asked what the matter was, Gerhard angrily answered that it had to be the same for us whether there is any cargo or not, as we would get our money anyway. Only during the trial we learned that Gerhard and the South African company that leased our aircraft were linked to Mark Thatcher, who was somehow connected with the coup plans against the President of Equatorial Guinea. We were later accused of going to Zambia for allegedly bringing a group of people who planned the coup.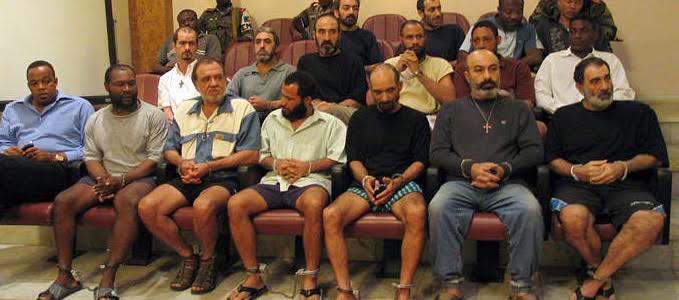 Dock. Samvel Machkalyan is second from the right
When the period of our stay in Zambia expired, we had to produce the flight plan (a document filed with the local Civil Aviation Authority prior to departure, indicating the plane's planned route or flight path). We stayed for one more day until our flight was approved and then returned to Malabo, without any cargo or passengers. Immediately after landing we were surrounded by policemen, who searched the plane and after finding nothing accompanied us to the hotel, where we spent the next two weeks. It was a very poor hotel with electricity shortages, although, according to the contact we signed, we were supposed to live in 3-star hotel. On March 8 we were about to have a holiday dinner, when armed police officers broke in and arrested all of us, including Gerhard and representatives of the South African company. We thought it was a mere misunderstanding and we will be set free soon.
In jail we received inhuman and cruel treatment. I still remember the pain caused by the gripping handcuffs. On the second day, we were led to the prison square, where journalists photographed us without any questions.
I asked a man wearing a suit and a tie to loosen the handcuffs as they hurt badly, but he, on the contrary, pressed them even tougher. We later knew that he was the warden. Our hands were tied behind our back, what made it impossible to lie or sit.
We were interrogated every day, while the South Africans were even beaten and tortured. On the eighth day Gerhard suffered a stroke and died right before our eyes. These were hard times. After Gerhard's death, we had our hands tied in front. However, there was another "surprise" waiting for us: we got legcuffs.
The climate was hot and humid and the cuffs caused wounds. I don't know how we survived. I remember saying the prayer and the others repeating after me, in a hope to get out of this hell. We were accused of plotting a coup d'état. We tried to explain that we have nothing to do with it, but in vain. All of us had experience of working in Africa (before Armenian Airlines broke up, our aircraft was rented by Muslim African countries to transport pilgrims to Saudi Arabia during the Hajj) but we never came across problems of the kind.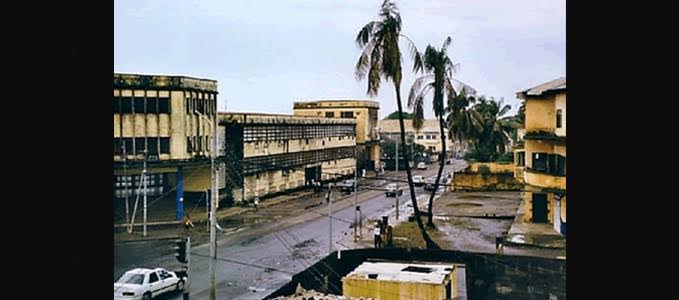 Black Beach prison
Black Beach prison resembled large barracks. It had two-story iron beds with synthetic matrasses. Not all had sheets. We got no water and thought we will perish with thirst for the first 10 days. Our hands were again tied behind back and even after finding some water we had to ask the local inmates to help us, as their hands were free. We were alone in the prison during the day, as the African inmates were taken to work somewhere. In the morning we got some 100 grams of bread and in the evening the same amount of boiled rice. When eating one of hands was free and the other was tied to the bed. We remained tied even when bathing. A Nigerian young man used to help me, rubbing my body with the dish washing liquid and pouring a bucket of cold water.
On the 26th day, representatives of the Red Cross came to visit us. They registered us and handed personal cards. I asked to bring me a book, but they were only allowed to bring the Bible and I received a Gospel in English.
The Armenian authorities undertook different measures to secure legal assistance to the jailed pilots. The Permanent Representative to the United Nations held numerous meetings with the members of the Equatorial Guinea's delegation, urging them to ensure human treatment for the citizens of Armenia. Official Yerevan also appealed Amnesty International (AI) and International Committee of the Red Cross (ICRC). AI issued a statement, calling on Equatorial Guinea to retain from violence, while ICRC representatives departed for Malabo to visit the Armenian prisoners.
Because of the terrible conditions, I fell ill with malaria for 11 times and once with typhoid fever. Each time I was taken to the prison hospital for cure, as the diseased person can die without getting medicine for a couple of days. There was a catholic church near the hospital and once, when I was lying in chains, a priest saw me. He probably felt mercy and prayed for me. I asked him for a book in English and said that I don't understand Spanish. He brought me an English-Spanish New Testament.
The country's former aviation minister, who was also the president's cousin, was in jail with us. He suffered from terrible backache. I said I can cure it but he didn't believe me. It turned out that during studying in Leningrad (his wife was Russian) he underwent body massage treatment but nothing helped. However, I cured his back with a dozen of treatment sessions. When he asked what he can do for me, I said that I need a self-teaching guide of Spanish. Thanks to his wife I got the book in a couple of days. The Red Cross, besides the Gospel, gifted me a Russian-English dictionary. Thus, I learned Spanish during the following months in jail and ultimately I could read and understand the Bible in Spanish.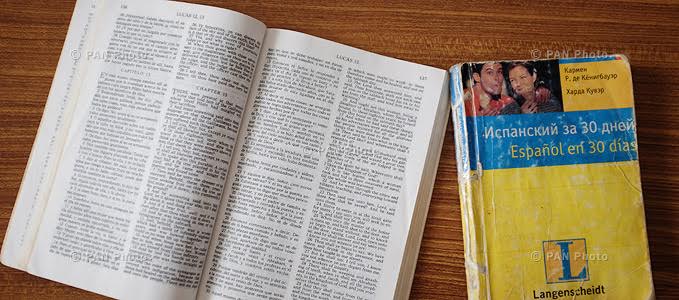 Spanish Bible and self-teaching guide
Besides, I asked the local inmate to bring Spanish books, any they can get. They once brought me a history textbook where it was said that the last champion of the Ancient Olympic Games was Armenian King Varazdat Arshakuni (394). My inmates were happy to know that I am Varazdat's countryman.
We also took up a hobby, making crosses from ebonite, although with chained hands. All asked for a cross, even the warden, who was happy to receive a present.
On the 66th day, we were taken for interrogation. When we entered the room, we saw European faces and understood that the people were Armenian. They were Armenia's ambassador to Egypt Sergey Manasaryan and some others. (Manasaryan was accompanied by deputy head of the Armenian state protocol service Gevorg Petrosyan). We were told that the Armenian embassy in Egypt (Armenia's only diplomatic outpost with resident ambassador in Africa) sent an inquiry to the authorities of Equatorial Guinea to find out whether we were jailed in Black Beach but received a negative answer. 66 days have passed until they could finally verify the information with the help of the Red Cross and organize a meeting.
They said they are in touch with the embassy of Spain and the trial is scheduled for June, when we will be acquitted and set free. In June, the lawyer who was supposed to defend us in court died unexpectedly. We later learned that he was killed. The trial was delayed till November. We were asked the same questions and were accused of the same crimes. The prosecutor said we allegedly arrived in this country to kill their president and organize a massacre, for which we were had to get $3000. I said, "Aren't you ashamed? I can earn $3000 just working. You could invent a story about $3 million to make your absurd story sound a little bit feasible." Even the journalists in the court room grinned at the questions we were asked. The fact that we returned from Zambia without any cargo or passengers did not affect the judge's decision. As result, our crew members were sentenced to 14 years in prison, while the pilot-in-command gor a 25-year sentence.
The observers from international organizations and journalists who were present at the trial said the verdict for the Armenian pilots whose guilt couldn't be anyhow proved was extremely severe. Then-ambassador Manasaryan said that the whole process lacked common sense. According to the diplomat, the death of Gerhard Niels was the reason behind the verdict. If were were acquitted it would turn out that he was not guilty as well. So, people would say that an innocent man was driven to the grave. Another reason, the envoy believed, was trivial: the aircraft as well as the fishing boat of the South African company were confiscated by the state.
The main defendant in the case, former officer of the Equatorial Guinean security forces Nick du Toit was given a 63-sentence, while three other South Africans were sentenced to 50 and 60 years in prison. (They were pardoned by the presidential amnesty in 2009). During the trial, du Toit said the Armenians were unaware about the planned coup.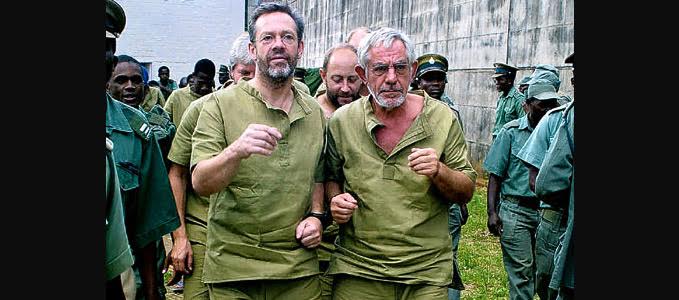 Nick du Toit and Simon Mann in prison. Photo: AFP/Getty
After the verdict was announced we were taken back to prison, hopeless and disappointed. I continued self-education, mastering English and Spanish. I learned about 1200 new English words. We had to do something in order not to go mad and continued making ebonite crosses. Armenian officials contacted the Spanish embassy in Equatorial Guinea and secretly sent money to us with their assistance. We, in turn, gave the money to the local inmates, who were taken to work, to bring us food and medicine.
In the last months of our imprisonment we were visited by a delegation led by then-Foreign Minister Vartan Oskanian, who assured us that all possible measures are taken to set us free. Even Ara Abrahamyan (the President of the Union of Armenians of Russia) sent us money, but we got only a part of it, as the rest was seized.
Former Foreign Minister Vartan Oskanian paid an official visit to Equatorial Guinea in February 2004 for talks to develop relations between the two countries. However, the real aim of the visit was to discuss the fate of the Armenian pilots. He met with the Prime Minister and Chief Prosecutor to come to conclusion that only the country's president can decide on the issue, so efforts were taken to achieve agreement with the dictator.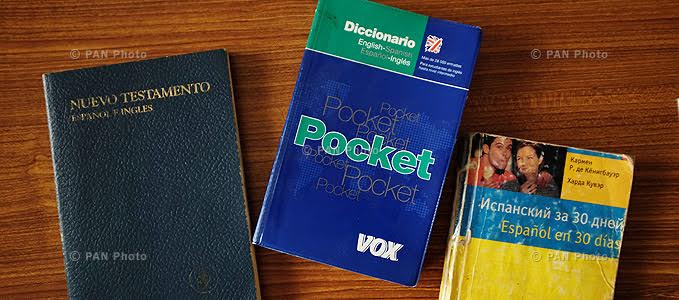 Samvel Machkalyan's prison books
We learned about amnesty via a radio news announcement. I could understand Spanish enough and also heard our names. I asked a local inmate to explain what was going on and he confirmed happily that we are to be set free. Three days later we were taken to the interrogation room, where ambassador Manasaryan was waiting and unchained us. After we were freed, a Swiss airline transported us to Switzerland and then Russia, where we went to ITAR-TASS news agency office to give a press conference.
According to Equatorial Guinea's official statement, the amnesty was a gesture of humanity dated to president Nguema's 63rd birthday, which was celebrated as a national holiday. The Armenians were cleared of all charges, while the RA Foreign Ministry hailed the decision of the Equatorial Guinean authorities. Many influential people solicited for our freedom, including Pope John Paul II, who sent a letter to the country's president, UNESCO chief and others.
There was no press conference upon returning to Armenia. We underwent a medical checkup. We never found a job.
Those were terrible months in the African jail. It was especially hard to be so far away from our families. But it was the time when I learned a philosophical approach to life, learned to think about justice and truth, learned to appreciate life and freedom.