Favorite place in Armenia
My favorite place in Armenia is where I was born. This is a place of power, where my parents live. If I were asked where I feel at home, I would not hesitate to say it's Berd [town in Tavush province of Armenia]. Moreover, I would say that my Armenia is located in Berd.
This year, a couple from Moscow visited Berd to grant a wish of their 9-year-old child. They arrived in Armenia, rented a car and headed for Berd. They saw my grandfather's house, then asked the locals where Narine Abgaryan's parents live and joined my mom for coffee. I also know another family, who arrived with a 9-month baby. I always avoided bringing my friends to Berd: it's a place where war is going on; it's a place under fire. Those who have visited Berd understand what I mean. It's really a heroic deed for a Russian to enter this town.
Ongoing war
Tavush is actually a province at war, while Berd is a border territory, where nearby villages are subjected to constant fire. People continue to live in war, although it's not much spoken about. Knowing alI this, I still didn't fancy how hard it would be for me to write about what is happening. Each narrative is a life story. I heard some in Berd, and some in Karabakh.
Karabakh heritage
My visit to Karabakh this year gave me a lot of energy. My mother's ancestors are from there. Actually, a part of Berd residents are of Karabakh origin as well: they moved about 200 years ago, like my mother's dynasty.
The lost city
I had a city that I loved immensely, Kirovabad [presently Ganja], but it's lost for us forever. This city was built by Germans and I still remember its wonderful houses.
Armenian cuisine
People have been asking me to write about the Armenian cuisine for a long time already. Of course, I can't write a cook book, but it could be a collection of stories, where each narrative will be linked to a recipe. The imaginary events could probably take place in a village with a butcher, greengrocer and other characters.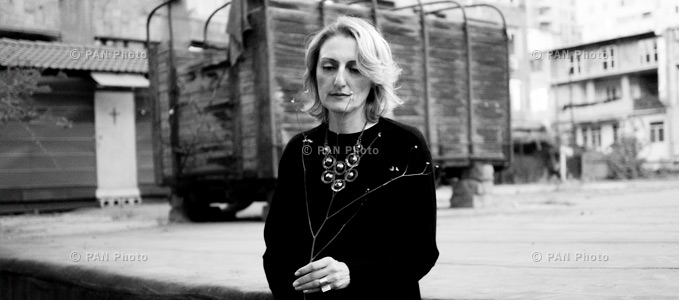 This should be recorded
We have plenty of funny names, surnames and nicknames in Berd. Some sound so comic that you can be ashamed to pronounce them in public. However, I think this is our national flavor that will vanish in 20 years. That's why this topic should be recorded.
Armenian writers
I love Hrant Matevosyan. He is an Armenian William Faulkner, as my mother used to say. I like reading the works by Vardges Petrosyan and Shahen Tatikyan. These are the books I read when I lived in Armenia.
Relations with Yerevan
I was not fond of Yerevan in the past, as it didn't show mercy towards the "interlopers". When we were students and lived in dormitories, we always came across a biased attitude. However, one of my wonderful friends said: "The city is not to blame for its residents." The same thing is when you don't like Moscow because a certain number of aborigines believe that "intruders" create problems. This kind of feeling should be just overcome. I love being in Yerevan now. I love resting in a café with a cup of coffee and walking. But to have a real rest I must go to Berd: I need its mountains and the barbeque made by my father.
About family and return to Armenia
My parents live in Berd; two of my sisters live in Yerevan; my brother lives in Moscow. Another sister of mine moved to the United States in 2016. She didn't want to leave unless her patience was exhausted. It's not easy to settle in the U.S. when you have a little baby but she succeeded. When an Armenian woman has a goal, the other should just step aside and wait. She lives in Boston and has already found a job. I think all of us will return to Armenia one day.
The son
My son Emil is 21 years old and I think I will be totally free to travel to Armenia in a couple of years. He is an independent young man and has a girlfriend. He was born and grew up in Moscow. Unfortunately, he can't stay in Berd for a long time, as he is allergic to pollens specific for that area. He can stay there for a couple of days and then is down with fever. Although he loves Armenia and visits Yerevan with pleasure, I don't think he will ever move to Armenia. He is a Cosmopolitan, but won't allow anyone offend his fatherland. The nationality is never lost. He masters as a historian and studies the Genocide issue.
We must look ahead
I feel annoyed every time when one more film about Genocide is planned to be shot. Let's stop mulling this issue. Just look ahead. When I was in Karabakh, the republic's Culture Minister said that it's a painful page of history which, however, should be turned over. We must not live with constant pain in our hearts. It's a correct approach. The state propaganda of suffering kills self-esteem. That's why I do welcome the Aurora Initiative. We are a winner nation. We have revived. We have risen like a phoenix from its ashes. This is the reason to be a strong and independent country.
Moving to Moscow made me take up the pen
I studied in an Armenian school and then in Yerevan's Brusov institute [now Yerevan Brusov State University of Languages and Social Sciences]. I do know that moving to Moscow made me take up the pen, because longing is behind my every book.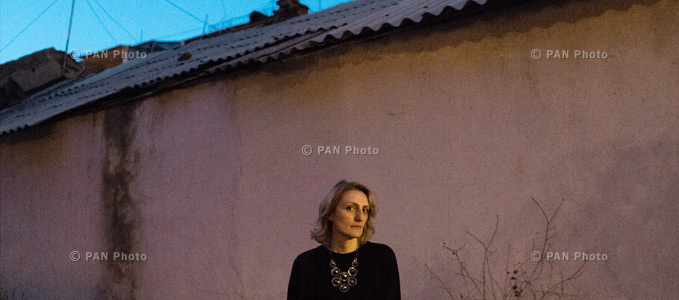 No possibility to publish books in Armenia
Publishing "Manyunya" in Live Journal, I was absolutely unaware of the consequences. The publishing house contacted me and the decision to publish the book was taken. As I learned later, several publishers were interested in "Manyunya" but hesitated whether the contents would be attractive for Russian readers. The first edition (4000 books) was sold out in a very short period of time. I was extremely happy and decided to continue writing, although I had some doubts. I know that there are good authors is Armenia but they have no possibility to have their books published.
The nicety of Armenian readers keeps up
Our people have an excellent sense of humor and Armenian readers' support is worth much. I think it's good, as nicety keeps us up.
Writer's job
There is no romance in the job of a writer. Inspiration is a rare guest in our routine. Of course, there are moments when you sit down and create a wonderful text, but it doesn't happen often. It's usually a hard work but if you love it, you are a lucky one.
Film adaptation
We are now in talks with a group of producers. The problem is that the editors of Russia's main TV channels doubt that "Manyunya", as a national story, would attract Russian viewers. Nevertheless, "Manyunya" will be staged in one of Moscow theaters, after premieres in Tomsk and Samara. I also do hope to see a cartoon adaption one day.
Accounting fail
I thought that when my books lose popularity one day, I will take up accounting. I have always been an excellent student, but I must confess that the idea was an epic fail. I turned out to be the dullest accountant in Moscow. I had to admit that accounting has nothing to do with mathematics.
Victories inspire
Victories in literary contests like Yasnaya Polyana Book Award do inspire, because your colleagues choose you as one of the best. You understand that have chosen the right path and feel more confident.
It's worth writing while you can
It's impossible to write endlessly. Everyone has an inner reservoir that will be exhausted one day. The most important thing is to stop in time. You must comprehend that you reached the ceiling and just stop.
Russian writer of Armenian origin
I would like to be an Armenian writer but my books are published in Russian. Thus, I am a Russian writer of Armenian origin, although almost all of my books are about Armenia.
What I missed in Georgia
During my recent visit to Georgia, I saw a monastery complex. All seemed very familiar but I still missed something. I walked for about a kilometer and then it occurred to me: I saw bare stones. Do you understand what I mean? There were no khachkars. Armenians would have undoubtedly carved the stones. This is probably a kind of national basis, where a stone should have a cross on it.