"Socrates now", a one-man stage adaptation of Plato's "Apology of Socrates" was staged in Yerevan on October 20 at the American University of Armenia and on October 21 at Komitas Museum-Institute. Starring in the show was Yannis Simonides himself, an Emmy award-winning actor and director, who gave two unforgettable performances for the Armenian audience.
After the artist's first appearance on a Yerevan stage, PanARMENIAN.Net managed to ask him a few quick questions about the universal truth that Socrates was preaching, the freedom to explore things, the Armenian audience and much more.
"I like Armenians," he said. "We are very much alike, we look alike, we suffered a lot. I grew up in Istanbul with my mother, with Armenian food and customs close to my heart. Looking at this full house (AUA's Alex and Marie Manoogian hall - Ed.) - which was such a wonderful surprise - was very moving. Some performances start, and young people don't really want you there, because they have no idea what this is about. Maybe some people or their teachers forced them to come, and they are into their cell phones, kissing their girlfriends or going to the bathroom. So it takes time to win them, but there hasn't been a single performance that at the end I didn't feel appreciated, listened to, comfortable."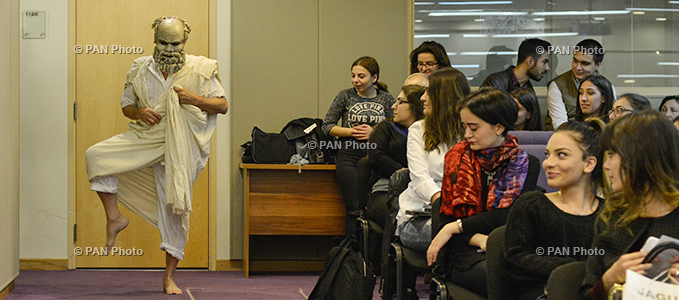 Socrates said: 'The unexamined life is not worth living'- both a universal truth and such a revelation, and Simonides thinks it's not just about today's reality: it's diachronic, it's forever.
"We unfortunately pay so little attention to our best friend, which is our inner self. Hundreds of times a day, our inner voice tells us what to do: 'You looked at that person strange. Why did you say that?' So, what is that? It's our best friend. It's not just the voice that has a unique sound, but also silence, because painters, musicians, dancers don't think in words. They think images, they thinks movements, they think quiet. Silence has a lot of sounds, echoes," he said.
"Life is boring. It's the surface - we meet, we make love, we think, we govern, we do this or that. It's good, it's a lot of pleasure, but at the end we are mostly unhappy.
"Sometimes we have moments of happiness: you live the life to the fullest, you have self-examination, interest in other people, but some other times we are so prejudiced: 'I am not good at the arts, I can't sing, I can't this or that.' But, have you tried? Like Beckett (Samuel Barclay Beckett, an Irish novelist and poet - Ed.) said, 'Ever tried. Ever failed. No matter. Try Again. Fail again. Fail better.'"
The actor has an interesting understanding of self-criticism which he thinks is a way of giving feedback to yourself.
"Criticism is feedback, we don't have to see it as punishment. If it's constructive, it's worth it, you give feedback to yourself, while self-examination has a lot of rewards."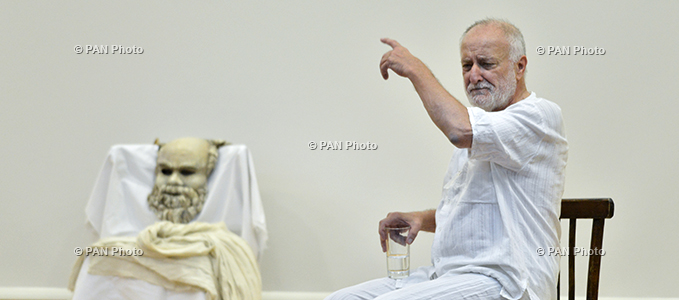 Asked whether the play has changed him in a way he did not expect, Simonides gave a positive response.
"I have done so many other things but this play has changed my life. Some time ago, my son - a teen then - was in the audience among 700 Muslim students of the American University of Sharjah. When he raised his hand, I went 'Oh dear, there's my son, ladies and gentlemen, and he probably has a very dangerous question.' He said, 'I know the answer, but has this play changed you as a human being? Has it made you a better human being and a better father?' I don't know if it has made me better at anything but it has certainly made me a better student of life," Simonides said.
"I believe it does change the audience too, because people write to me years after seeing the play. They come back, they say 'you know, I saw you in Dubai or Moscow or somewhere else, and I am bringing my family next time.' It's life-altering, and all I do is giving it life so it resonates. People carry it with them, they question. The interesting part in life is about questions, not answers."
And what the world needs to get better is for every single one of us to take responsibility for ourselves, he adds:
"We have to start with ourselves. There is a theory about the butterfly effect: the power to cause a hurricane in one part of the world when a butterfly flaps its wings on the other end of the planet. And that is true. We forget the power of one - ourselves. The world can get better if we take responsibility for our own self."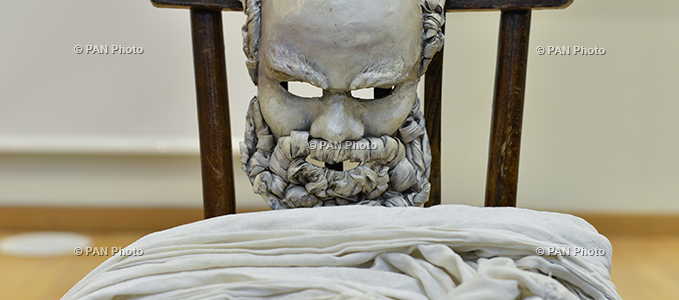 Simonides won an Emmy award for producing and narrating the documentary "A Light Still Bright" on the Greeks of Istanbul. Now the artist says he is trying to devote his time to writing.
"There's actually one thing I am going to do. I am directing Euripides' 'The Bacchae' with the Māori in New Zealand in Māori language, their native tongue. So I have committed myself to this. If anything else comes my way and it's good, I may consider it too," he says.
The actor says he was happy to reveal that he has Armenian blood running in his veins: his mother told him so.
"That's why I like tolma," he joked.
The production was supported and sponsored by the Armenian Ministry of Culture, the Greek National Tourism Organization, Coca-Cola Hellenic Bottling Company Armenia, the American University of Armenia, Aegean Airways and Charentsi 28 Restaurant. Coca-Cola Hellenic Armenia supported the initiative in memory of late Dimitris Lois, CEO of Coca-Cola Hellenic Company.