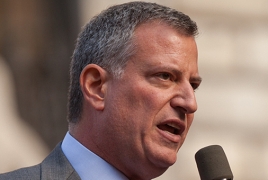 April 25, 2015 - 14:02 AMT
PanARMENIAN.Net - New York City mayor Bill de Blasio issued a statement, commemorating the centennial of the Armenian Genocide.
The statement reads: "Today, we commemorate the Meds Yeghern and honor those who perished in the Armenian Genocide 100 years ago in one of the worst atrocities of the 20th century, when over a million Armenians were subjected to state-sanctioned murder, rape and massive forced deportations.
For many Armenians in New York City and around the world, this historical trauma is compounded by Turkey's refusal to recognize the devastation inflicted upon the Armenian people as an act of genocide. Pope Francis spoke of this in a recent sermon, and it bears repeating on this painful anniversary: There cannot be closure on an atrocity of this magnitude if we do not call it by its name. The bravery of a new generation of Turks – who are challenging those in their country who deny this tragedy – is an encouraging step toward long overdue justice and reconciliation.
Against today's background of rising religious intolerance, we must take this solemn occasion to reflect on the past – and to directly confront the discrimination of the present."