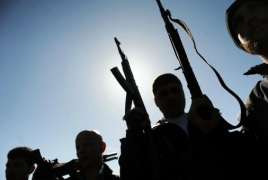 April 25, 2015 - 14:41 AMT
PanARMENIAN.Net - Islamist insurgents including al Qaeda's wing in Syria Nusra Front on Saturday, April 25, captured large parts of the northwestern Syrian town of Jisr al-Shughour for the first time in the four year conflict, according to Reuters.
Syrian activists and a violence monitoring group said that fighters have pushed inside the town which lies on a road between the coastal city of Latakia and Syria's second city of Aleppo, after days of heavy fighting.
Syrian state television said the army was engaged in "fierce battles in Jisr al-Shughour".
Syrian forces captured the town of Jisr al-Shughour in June 2011 when what the government described as armed gangs had killed more than 120 security personnel in the town after large demonstrations there.
A rebellion in Jisr al-Shughour, a town of 50,000, in 1980 against President Hafez al-Assad, Bashar's father, was crushed with scores of deaths.
Last month Sunni Islamist groups seized the city of Idlib, the capital of the province of Idlib, after forming an alliance which includes Nusra, the hardline Ahrar al-Sham movement and Jund al-Aqsa, but not Islamic State, their rival.
The Islamist alliance calls itself Army of Fatah, a reference to the conquests that spread Islam across the Middle East from the seventh century.
They continued their assault to capture the few towns and villages which remained under the government forces in the province.