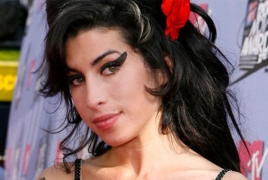 April 27, 2015 - 14:48 AMT
PanARMENIAN.Net - The family of jazz singer Amy Winehouse, who died because of alcohol poisoning in 2011, condemned a documentary about her life entitled "Amy". Mitch Winehouse, Amy's father, said that the documentary was misleading and unbalanced, AceShowbiz reports.
"They feel that the film is a missed opportunity to celebrate her life and talent and that it is both misleading and contains some basic untruths," a spokesman for the family said in a statement. The family also "would like to disassociate themselves from the forthcoming film about their much missed and beloved Amy."
They thought that the documentary was made by looking only on certain side and it excluded some important parts such as the role of the family for Amy. "The narrative is formed by the testimony of a narrow sample of Amy's associates, many of whom had nothing to do with her in the last years of her life. Counter views expressed to the filmmakers did not make the final cut," the family argued.
In an interview with The Sun on Sunday, April 26, Mitch added, "I felt sick when I watched it for the first time. Amy would be furious. This is not what she would have wanted."
But the team behind the documentary defended their work as saying, "When we were approached to make the film, we came on board with the full backing of the Winehouse family and we approached the project with total objectivity, as with Senna."
"We conducted in the region of 100 interviews with people that knew Amy Winehouse: friends, family, former-partners and members of the music industry that worked with her. The story that the film tells is a reflection of our findings from these interviews."
Directed by Asif Kapadia, the film will make its premiere at the Cannes Film Festival next month and is set to hit cinemas in the U.K. on July 3. "I don't think I'm going to be at all famous, I don't think I could handle it. I would probably go mad," Amy says in the opening of the trailer.