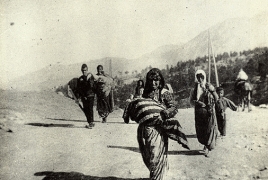 May 1, 2015 - 19:09 AMT
PanARMENIAN.Net - Turkish Hurriyet magazine published an article by journalist Ahmet Hakan, complete with 7 points confirming the Armenian Genocide.
The points listed by the journalist are as follows:
1. The word genocide is said to be used by imperialists only. The U.S., being the greatest imperialist, still doesn't use the word.
2. We keep mentioning the Armenian's armed attacks. Was it a reason enough to deport and massacre all the Armenians? Why was the whole nation made responsible for the actions of a group of people?
3. Why do we pronounce genocidal leaders of the Young Turks movement our ancestors, instead of Rashid Bay, Mehmet Bay and Faik Ali Bey who protected Armenians?
4. Whoever is calling the Genocide a lie – could they tell what happened to the Armenians – the most ancient nation inhabiting those lands? Where did they all go? What happened to their property? Who took it from them?
5. We keep telling the countries with a history of massacres and genocides they cannot preach anything to us. But would blaming the formers cleanse our own history?
6. We're offended at the word 'Armenian,' we even apologize before pronouncing it. On April 24, we lay a black wreath outside the Agos office to commemorate the assassinated journalist Hrant Dink. How on earth are we going to persuade the world we're so humane we wouldn't hurt a fly?
7. Would the refusal to recognize the Genocide save us from facing our past? Will it wash away our sins and the blood we shed?