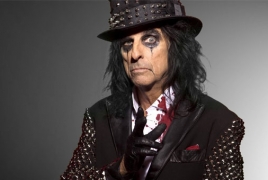 May 2, 2015 - 18:33 AMT
PanARMENIAN.Net - Alice Cooper has said that he might consider re-recording some of 'blackout' material, but he doesn't want to play with the "insanity" that shows up on the albums and the lyrics, Gigwise reports.
In a new video series 'Ask Alice', Cooper responds to email questions submitted by fans. One fan asked him: "I personally love the so-called 'blackout' albums…I read an article where you said you'd like to go back and re-record some songs from those albums. I think those albums are unrightfully maligned. Could this still happen?"
The 'blackout' albums refer to the records (Flush The Fashion, Special Forces, Zipper Catches Skin, and DaDa) Cooper released between 1980 to 1983, while he was heavily battling drug and alcohol issues.
In response to the question, Cooper said that while the albums are a portrait of where he was at that time, there are certain songs that he might consider revisiting.