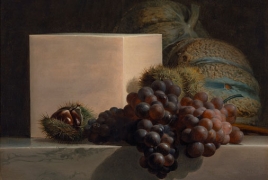 May 12, 2015 - 10:58 AMT
PanARMENIAN.Net - A little-known but rewarding 19th-century oil painting by French artist Antoine Berjon (1754–1843) has been acquired by the Toledo Museum of Art through the generosity of a local couple, The Art Daily reports.
Still Life with Grapes, Chestnuts, Melons, and a Marble Cube was purchased from an art dealer in Lyon, France, for the permanent collection with funds given by James G. and Nancy Ravin.
"We are delighted to announce the acquisition of this exquisite work of art and to publicly thank Dr. and Mrs. Ravin for making it possible to bring it to Toledo," said Brian Kennedy, the Museum's director. The Ravins are also members of the Museum's collecting group, The Apollo Society.
"This new acquisition joins other outstanding French still lifes that include Jean-Bapiste Oudry's Still Life with Musette and Violin of 1725, Gustave Courbet's The Trellis of 1861 and Camille Pissarro's great Still Life of 1867," Kennedy said. "Berjon's painting was created around 1800–1810 and fills a gap in the Museum's collection."
Berjon was the leading still life painter in the city of Lyon during the first half of the 19th century. He taught at the École des Beaux-Arts in Lyon and had more than 200 pupils. As an artist, he continued the tradition of 18th-century French still life painting but also was inspired by 17th-century Dutch and Flemish still life paintings. Examples of his work can be found in the collections of the Louvre, the Philadelphia Museum of Art and the Musée des Beaux-Arts de Lyon.
"A still life by Berjon, an artist who rarely appears on the market, has been sought by TMA for decades," said Lawrence W. Nichols, the William Hutton Senior Curator, European and American Painting and Sculpture before 1900. "It is utterly thrilling to have this sublime and mysterious gem enter the collection."
Although a seemingly simple arrangement, the painting engages the viewer in many complex and subtle ways, the curator said.
The work abounds with contrasts. The artist juxtaposes small, smooth, red grapes with large, rough, ridged melons. Spiky chestnut pods contrast with the sheen of a pair of exposed chestnuts. Unexpectedly among nature's bounty of fruits and nuts, Berjon adds a pristine, white marble cube. All of the objects are arranged on a marble ledge.
"Characteristic of any compelling still life, the painting encourages the eye to observe and the mind to contemplate. The act of viewing is mesmerizing," Nichols said.
Still Life with Grapes, Chestnuts, Melons, and a Marble Cube is now on view in Gallery 31.