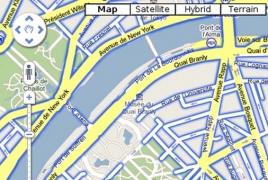 May 20, 2015 - 17:13 AMT
PanARMENIAN.Net - Android Wear devices have supported Google Maps since launch, but it looks like the full-fat version of the service is coming to wearables in the future.
Google Maps version 9.9 will add a standalone app to smartwatches that offers a more extensive mapping experience, Digital Spy reports citing Android Central.
The Android Wear app will add a host of features that are currently absent, including the ability to scroll around maps from your wrist, zoom in, toggle compass view, and pinpoint your current location.
Other new features will still be reliant on the smartphone app, such as the option to scan for nearby points of interest and navigate to them.
To avoid excessive battery drain, maps are said to switch to a black and white viewing mode when the user has stopped interacting with them.
Google is yet to announce when the standalone mapping app will be released for Android Wear, but Android Central claims to have seen it up and running on an LG Watch Urbane.