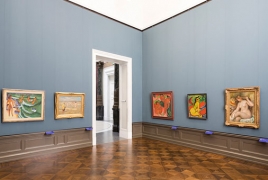 May 20, 2015 - 17:36 AMT
PanARMENIAN.Net - With Impressionism – Expressionism: Art at a Turning Point, the Nationalgalerie, Staatliche Museen zu Berlin presents a groundbreaking exhibition at the Alte Nationalgalerie from May 22 to September 20, 2015, deliberately comparing these two artistic styles for the first time, Art Daily reports.
The Nationalgalerie was one of the first museums in the world to acquire Impressionist paintings, beginning in 1896; by 1919, the museum had added an extensive collection of Expressionist works. The comprehensive exhibition at the Alte Nationalgalerie will trace the similarities and differences between these two art movements, a process of comparison that began just after 1900. Over 160 Impressionist and Expressionist masterpieces from chiefly German and French artists will be on display, assembled from the collections of the Nationalgalerie and other museums around the world.
The development of Impressionism is associated with artists such as Claude Monet, Edgar Degas, Camille Pissarro, and Pierre-Auguste Renoir in France and with painters including Max Liebermann, Lovis Corinth, and Max Slevogt in Germany. Works by Ernst Ludwig Kirchner, Erich Heckel, Karl Schmitt-Rottluff, Emil Nolde, and Franz Marc epitomize the powerful counter-movement of Expressionism in Germany.
Occupying the entire middle floor of the Alte Nationalgalerie, the exhibition is arranged according the principle shared motifs of the two movements. The main hall is devoted to the theme of the city; further rooms treat night life in bars, cafes, and restaurants, leisure time spent at the outskirts of the city, as well as themes of family, artists, and art mediators. The motif of the bather opens the exhibition and stands in sharp contrast to the final room with works from 1913 which capture the simmering sense of unease at that time.
A comprehensive catalogue published by Hirmer Verlag accompanies the exhibition, containing numerous essays and 230 full-colour illustrations.
An outstanding program of events entitled Salon ImEx will supplement the exhibition. Beginning on May 27, well-known figures from Germany and France – including actors, directors, writers, architects, art historians, and musicians – will meet and bring to life the themes of the exhibition from the perspectives of both countries in discussions, readings, lectures, and concerts.