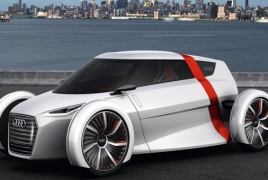 May 29, 2015 - 09:03 AMT
PanARMENIAN.Net - Presently, Audi only has one true "city car" that rivals the Fiat 500 and MINI Cooper: the A1, exclusive to Europe only. Now it looks like the German automaker is planning a new city car with several versions to appeal to a wide variety of consumers, Digital Trends says.
The production model will be supposedly previewed by a concept at the 2016 Paris Motor Show.
Scheduled for production sometime before 2020, the subcompact would be built in two- and four-door body styles with a few engine options. The MQB platform will underpin the new model, and it's a good chance front-wheel drive will be the standard setup, with Quattro all-wheel drive available as an option.
A pair of three-cylinder engines will be offered, including a gas engine making 110 horsepower and a diesel motor developing 100 horsepower. An electric variant is planned with 80 hp or 120 hp outputs. The estimated range will be 125 miles on a charge.
There are also plans for a high-performance version that will use a Ducati-sourced 1.2-liter two-cylinder with 200 hp on tap. The model would seat two occupants and feature a convertible roof. The project was a darling of Ferdinand Piech's, who recently resigned as Volkswagen Group Chairman, so whether Audi will actually build the hotter version is up in the air.
The high-performance version would be the first product to utilize Ducati's engines in an Audi model since the German brand acquired the Italian motorcycle manufacturer three years ago.