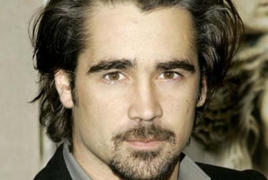 June 6, 2015 - 10:17 AMT
PanARMENIAN.Net - Colin Farrell talked about "True Detective" season 2 at the Maui Film Festival. The actor who has been cast as a compromised detective named Ray Velcoro described his character as "a bit of burnout, really." Without mentioning his struggles with substance abuse, he admitted, "I dug deep into my not-so-distant past" to play the character, AceShowbiz reports.
He added about Velcoro, "He's somebody who like many of us in life is wrestling with events that took place in his past, and is trying to move forward from them, but trapped in this continual cycle of behavior he can't get out of. I think fundamentally he's a good man that made some very bad choices."
Claiming that the second season would be "very different" from the first season "aesthetically," Farrell shared, "There are four main characters, as opposed to the two-character structure that's in the first piece. But it's a lot of the same sensibilities, and a lot of the characters are struggling with the same kind of existential quandaries and questions that are related to meaning and purpose and the burying of the darkness that may be in your past."
The second season opens with a murder, but Farrell said, "I think it's more to do with what's happening with the characters than the solving of a murder, which is what I kind of felt about the first year anyway. So hopefully people respond to it. You never know. But it was a blast to work on. It was such good material, and such a wonderful cast of characters."
He added in an interview with E! News, "Some of the existential crises that the characters are dealing with are fundamentally some of the same issues, some of the same human concerns.... So hopefully people will be okay with it being different and they'll be open to it being a whole new breath of life."
Farrell was presented with Navigator Award at the Maui Film Festival which took place on Thursday, June 4.