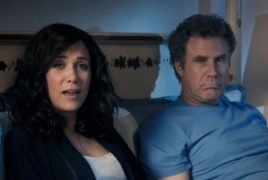 June 12, 2015 - 11:37 AMT
PanARMENIAN.Net - A teaser trailer for Lifetime's movie "A Deadly Adoption" has been unleashed ahead of the premiere on June 20. The 20-second clip shows that Will Ferrell looks grim, Kristen Wiig is bruised and armed, while Jessica Lowndes is full of anger, AceShowbiz said.
"We could have had everything. We could have had a happy life together," Lowndes says. "You're a selfish coward and a liar, just like the rest of them." She is seen behind the wheel of a speeding car with Ferrell standing in the middle of the road.
Inspired by a true story, "A Deadly Adoption" is a high-stakes dramatic thriller about a successful couple (Ferrell and Wiig) who house and care for a pregnant woman (Lowndes) during the final months of her pregnancy with the hope of adopting her unborn child.