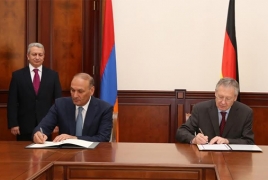 June 17, 2015 - 16:46 AMT
PanARMENIAN.Net - German KfW will provide a Euro 205 million soft loan and a grant of around Euro 4.8 million to Armenia for a number of programs.
A relevant agreement was signed by the minister of finance Gagik Khachatryan and German ambassador to Armenia Rayner Morel in Yerevan yesterday (June 16), ARKA reports citing the press office of Armenia's ministry of finance.
The grant will be spent on implementation and coordination of a number of programs, including "Financing of housing areas, stage 4", "Efficient energy use in micro, small and medium enterprises", "Modernization at schools to enhance energy efficiency", "Integrate water management on Akhuryan river, phase 2" and "Municipal structures, stage 2".
The soft loan funds will be used for implementation of the programs above, as well as "Caucasus energy union, phase 3" (high-voltage electricity lines between Armenia and Georgia).