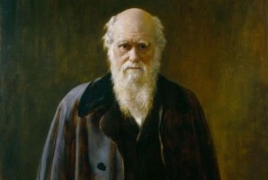 June 24, 2015 - 12:47 AMT
PanARMENIAN.Net - Disney has launched a development on a Charles Darwin movie after acquiring an untitled pitch from Oscar-winning scribe Stephen Gaghan ("Traffic"), AceShowbiz reports citing Deadline. Stephen is onboard to direct the project from his own screenplay.
According to the site, the project is an adventure movie as Charles had a bit of that Indiana Jones-like swashbuckling spirit in him. In 1831, he embarked on a daring five-year voyage on the ship HMS Beagle to chart the coastline of South America. He then made many discoveries that would come to influence the theories which made him one of the most influential figures in human history.
Charles was the subject of Jeremy Thomas-produced film "Creation" (2009) starring Paul Bettany, Jennifer Connelly and Benedict Cumberbatch. The movie centered on Charles and his family as he struggled to complete his 1859 book "On the Origin of Species".
The English naturalist and geologist was also included in some other movies like "The Voyage That Shook the World" (2009), "Darwin's Darkest Hour" (2009), "Burke and Hare" (2010) and "Curious Soul" (2012).
Stephen is currently in pre-production to helm Black Bear Pictures' mining drama "Gold (2016)" starring Matthew McConaughey.