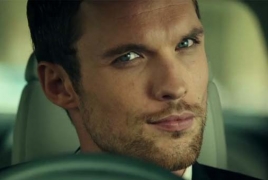 July 2, 2015 - 13:01 AMT
PanARMENIAN.Net - A new trailer for the latest installment of the "Transporter" movie series has arrived. Unlike the previous films which had Jason Statham behind the wheel, "The Transporter Refueled" features Ed Skrein as Frank Martin, a former special-ops mercenary, TheWrap reports.
Martin takes on a new mission as he is hired by a cunning femme-fatale, Anna (Loan Chabanol). Anna and her three seductive sidekicks force Martin to orchestrate the bank heist of the century.
The job ends up getting Martin into deep trouble as he quickly discovers he's been played by Anna and her team. They kidnap his father (Ray Stevenson) in order to coerce Martin into helping them take down a ruthless group of Russian human traffickers. "Halo Frank, you and your friends took something from me and I've taken something from you. I give you twelve hours to find you father before I kill him," someone threatens Martin in a phone call.
Martin will break all his rules and stop at nothing to rescue his father. Just like its predecessors, the upcoming movie is full of high-octane action sequence and car chase.
"The Transporter Refueled" was initially scheduled to be released in North America on March 6 and it was pushed back to June 19. The movie is now due September 4 in U.S. theaters. Other actors who are included in the cast are Radivoje Bukvic, Gabriella Wright and Anatole Taubman.