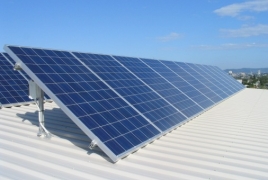 July 25, 2015 - 10:33 AMT
PanARMENIAN.Net - Tamara Babayan, the director of the Renewable Energy and Energy Efficiency Fund, has announced Friday, July 24, the launch of a $58 million worth investment project designed to help advance Armenia's renewable energy sector, Arka reports.
The project is being implemented by the Renewable Energy and Energy Efficiency Fund with the support of the Climate Investment Fund, the Ministry of Energy and Natural Resources, the World Bank and the Asian Development Bank.
The project was approved in June 2014 by the Climate Investment Funds and in September it was discussed in detail with the representatives of the Ministry of Energy and Natural Resources. The project's duration is 5-6 years, Babayan told a news conference.
"The main elements of the project will be launched in 2017. By 2020, we expect to have solar power stations with the total capacity of 40-50 MW," she said, according to Arka.
One of the project's components is geothermal exploratory drilling in the southern Armenian province of Syunik to explore the geothermal energy potential. Before the winter, a road will be built to the drilling site, Babayan said.
According to her, alternative energy, in terms of imminent rise in electricity prices and revolutionary changes in solar energy production technology makes it more profitable and attractive from the investment point of view.
The main source of electricity in Armenia today is the nuclear power plant, which accounts for about 30% of the total electricity generated in the country; thermal power plants which account for 42% and hydropower plants, which generate 29%. Renewable energy sources accounted for 13% of the total energy produced in Armenia in 2013.
The Climate Investment Funds (CIF) is providing 63 developing and middle income countries with urgently needed resources to mitigate and manage the challenges of climate change and reduce their greenhouse gas emissions.
Since 2008, the CIF has been championing innovative country-led investments in clean technology, renewable energy, sustainable management of forests, and climate-resilient development. Fourteen contributor countries have pledged a total of $8.1 billion to the CIF, which is expected to leverage an additional $57 billion from other sources. The largest donors are the United States, Britain, Japan and Australia.