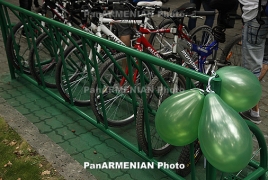 July 25, 2015 - 18:52 AMT
PanARMENIAN.Net
-
In the framework of the initiative 100 Doors, commemorating the Armenian Genocide centennial, a cycling race kicked off in Yerevan, with more than 70 cyclists participating.
The name of the initiative symbolizes the 100 Armenian churches in Eastern and Western Armenia, as well as in Javakheti (Javakhk), president of the Amateur Bicycle Sport and Bicycle Tourism Federation of Armenia, Arman Antonyan said, according to Novosti Armenia.
Wearing T-shirts with the inscription "Our wounds are always open," the participants started from the Republic Square and headed towards Tsitsernakaberd, the Armenian Genocide memorial, where they paid tribute to the memory of victims.
"The project aims to make people understand that we should visit Tsitsernakaberd not only on April 24, or immediately before it, but whenever we feel like," Antonyan said.