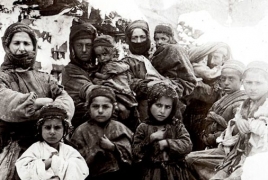 August 1, 2015 - 12:04 AMT
PanARMENIAN.Net - The Latin American Parliament (Parlatino) approved on Friday, July 31, a resolution recognizing the Armenian Genocide, Prensa Armenia reports.
The Panama-based body that was created in 1964 with the Declaration of Lima is composed of the National Congresses and Legislative Assemblies of all Iberoamerica.
The recognition of the crime against humanity perpetrated by the Ottoman Empire, adds to the resolutions adopted by parliaments in South America this year, as was the case of the Chamber of Deputies of Chile, the Federal Senate of Brazil and the State Legislature of Rio de Janeiro.
"Among many other topics covered by Executive Board of the Latin American Parliament and the Caribbean Declaration, the recognition of the Armenian Genocide was supported almost unanimously (with one abstention)," National Deputy of Montevideo Alfredo Asti said. "Uruguay was a pioneer in the world to recognize the Genocide 50 years ago and today we strongly supported this position."