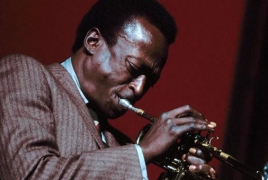 August 7, 2015 - 09:25 AMT
PanARMENIAN.Net -
Don Cheadle's first turn as a director has been picked up by Sony Pictures Classics, Entertainment Weekly reports.
The studio announced this week that it acquired the worldwide rights for "Miles Ahead," a film focused on legendary jazz musician Miles Davis.
"Miles was many things…a supreme artist and a national treasure but also an enigma to those around him, especially during his so-called quiet period," said Cheadle in a statement. "With the family's blessing and Miles' tenets on creativity as our guide, we used these cloistered years as a jumping off point to compose the story of a self-exiled artist creating his own 'centrifugal adventure' to spin himself back into playing music again."
"Miles Ahead" focuses on a handful of days in Davis' (Cheadle) life, when he seldom recorded and sought the assistance of a Rolling Stone writer (Ewan McGregor) to help plan steal back his music. It's a passion project of Cheadle's and has been in development since 2008. He's long admired Davis, who died in 1991.
"Miles Ahead" also stars Emayatzy Corinealdi, Michael Stuhlbarg, and Keith Stanfield and was written by Cheadle and Steven Baigelman. It will make its world premiere on Oct. 11 to close out the New York Film Festival.