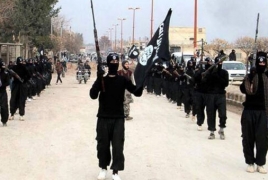 August 12, 2015 - 18:23 AMT
PanARMENIAN.Net - The Egyptian affiliate of the Islamic State said on Wednesday, Aug 12, that it had beheaded a Croatian man who was taken from his car on the outskirts of Cairo last month, the New York Times reports.
The claim, if confirmed, would be the first time that militants in Egypt had abducted and killed a foreigner during two years of attacks against the government of President Abdel Fattah el-Sisi.
The man, Tomislav Salopek, 30, a married father of two, worked for a subsidiary of a French company in Egypt that serviced the oil and gas business.
A photograph posted on Wednesday on a Twitter account affiliated with the militant group, which is called Sinai Province, appeared to show Salopek's body, beheaded and lying in the desert with a knife nearby.
The group released a video last week saying that Salopek would be killed within 48 hours unless the Egyptian government released Muslim women from prisons. The deadline expired on Friday.
In the Twitter posting on Wednesday, the militants said Salopek had been killed because of Croatia's "participation in the war against the Islamic State."
Egypt has been battling a hard-core jihadist insurgency since 2013, but the killing of Salopek would signal a violent shift of focus for the militants, who have directed most of their attacks at the state's security services.
The beheading would evoke the brutal tactics of militants in Syria and Iraq, and it would represent greater peril for foreigners in Egypt, whose economy is heavily dependent on tourism and on multinational companies.
The claims that Salopek had been killed appeared to be timed to undermine Sisi, coming a few days after the government held a lavish celebration for the opening of a new channel of the Suez Canal that was attended by hundreds of foreign dignitaries.
After killing hundreds of soldiers and police officers over the last two years, the militants have shifted tactics noticeably in the last few months, attacking two of Egypt's most popular tourist destinations and detonating a car bomb outside the Italian Consulate in Cairo.