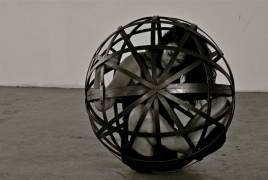 September 5, 2015 - 17:27 AMT
PanARMENIAN.Net - Gazelli Art House announces that Kalliopi Lemos's work At The Centre Of The World, 2015 is granted the Borusan Contemporary Art Collection Prize, Art Daily reports.
Displayed as part of the gallery's presentation at Moving Image, Kalliopi Lemos's 16mm B&W with sound work At the Centre Of The World, was selected at the fair. Initiated in 2014 the prize was created in collaboration with the Moving Image art fair to fund the aquisiton of new works for The Borusan Contemporary Art Collection.
Kalliopi Lemos's work was selected and will be acquired by the Borusan Contemporary Art Collection, which comprises of a variety of renowned International artists working with New Media Arts. Lemos's new piece expands her ongoing exploration of bodies in unnatrual positions, diverse scales and the quest for balance as she askes from the visitor to find "the centre", their own compass for this universe.
Borusan Contemporary Art Collection is the first collection in Turkey which is a member of IACCCA (International Associ- ation of Corporate Collections of Contemporary Art). The collection, established in the 90's, initially focused on Modern and Contemporary Turkish Art. Yet with the inclusion of international contemporary artists such as Donald Judd, Sol LeWitt and Jim Dine in the 2000s, it underwent a change and eventually shifted its focus towards New Media Arts with the inauguration of Borusan Contemporary as a public museum. In addition to commissioned site-specific works, the character of the collection is rooted in experimental and digital artworks that are acquired after temporary exhibitions.
"At the Centre Of The World, opens a space for visitors to reconsider the tension between inside and outside, body and spirit, material and immaterial; ultimately, the work raises questions about the limits and pain of the human body while hinting all that cannot be fathomed or expressed in the quest for a place "at the Center of the world." " Dr. Marilena Zaroulia
Kathleen Forde, Artistic Director at Large for Borusan Contemporary, remarked, "It's exciting to be embarking upon the second year of the prize with MIAF. The video by Kallipi Lemos is such a strong work and incredibly relevant to the Borusan Con- temporary Art Collection which, in addition to other interests, has a tradition of supporting video that blurs the line between performance and moving image media."