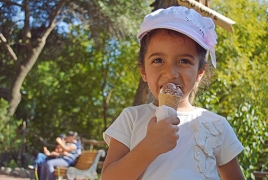 September 7, 2015 - 19:55 AMT
PanARMENIAN.Net - On September 5, Yerevan Zoo hosted the open air Ice Cream Day, held in the Armenian capital for the 5th time.
Little visitors were entertained by music, fairy tale characters, games and contests. The traditional fest offered the zoo's visitors unlimited ice cream available for only AMD 50, with all the proceeds of the day going towards the zoo's animal welfare project. The festive ice cream was provided by Ashtarak Kat Company.
The fest was made more accessible for everybody due to the support of VivaCell-MTS: all the young visitors under 16 enjoyed free entrance to the zoo on September 5.
"We are happy that this initiative organized in cooperation with Yerevan Municipality has become a traditional event. This is a wonderful opportunity to contribute to the zoo welfare, enjoying at the same time the last ice cream of the leaving summer," Yerevan Zoo Director Ruben Khachatryan noted.
The teenagers had a unique chance to compete for the main award of the day – bicycle from the Yerevan Zoo. 12 years old Narek Hovakimyan became the winner of the day, demonstrating a notable knowledge of wildlife and environment.