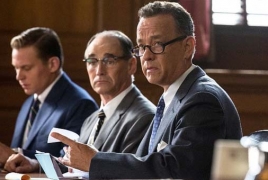 September 17, 2015 - 12:12 AMT
PanARMENIAN.Net - A new trailer for war movie "Bridge of Spies" has arrived. The film tells a story of an insurance lawyer named James B. Donovan (Tom Hanks) who is recruited by the CIA to negotiate with the Soviet Union for the release of a captured American U-2 spy plane pilot, AceShowbiz reports.
While the first trailer focuses on the efforts Donovan took to complete the task, the second trailer highlights the interaction between Donovan and a captured Soviet spy Rudolf Abel (Mark Rylance). Abel is the man who calls Donovan the "Standing Man" because Donovan reminds him of his father's friend.
"This man, my father's friend, he was beaten. Every time they hit him, he stood back up again," Abel says. "They hit him harder, still he got back to his feet. I think because of this they let him live."
According to the official synopsis, " 'Bridge of Spies' tells the story of James Donovan, a Brooklyn lawyer who finds himself thrust into the center of the Cold War when the CIA sends him on the near-impossible task to negotiate the release of a captured American U-2 pilot." It is a story inspired by true events that captures the essence of a man who risked everything and vividly brings his personal journey to life.
The movie is directed by Academy Award winner Steven Spielberg. Also in the cast are Amy Ryan, Scott Shepherd, Sebastian Koch and Alan Alda. The film is slated for a U.S. release on October 16 .