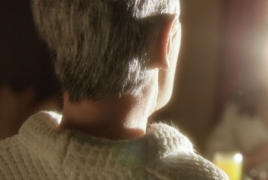 September 17, 2015 - 12:59 AMT
PanARMENIAN.Net - Paramount Pictures has acquired the worldwide rights to Charlie Kaufman's "Anomalisa" following its screening at the Toronto International Film Festival, TheWrap reports.
The stop-motion film was co-directed by Kaufman, known for writing "Being John Malkovich" and "Adaptation," and Duke Johnson, who has worked on animated projects like "Mary Shelley's Frankenhole" and "Moral Orel." Kaufman also wrote the script.
The film follows a depressed motivational speaker (David Thewlis) who meets an enigmatic woman (Jennifer Jason Leigh) during a speaking engagement.
The film raised over $400,000 on Kickstarter. It premiered at the 2015 Venice Film Festival, where it took home the Grand Jury Prize, before screening at Toronto.
"In this invented world, everything is familiar yet always slightly off, such as how the faces of the characters appeared to be molded masks rather than skin," TheWrap's editor in chief Sharon Waxman wrote of the film. "The film is existential at its heart, with the surrealism that is Kaufman's distinctive voice."