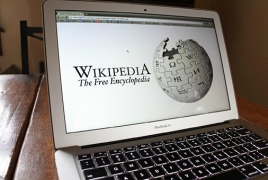 September 21, 2015 - 13:42 AMT
PanARMENIAN.Net - Wikimedia's Discovery Department has launched an experimental tile and static maps service, using open street map data, WikiTech-L Listserv reports.
Using this service, users can browse and embed map tiles into their own tools using OpenStreetMap data.
"Our hope is that this service fits the needs of the numerous maps developers and tool authors who have asked for a WMF hosted tile service with an initial focus on WikiVoyage," a company post says.
Wikimedia encourages people to try the new service, experiment writing tools using the tiles, and giving them feedback. "If you've built a tool using OpenStreetMap-based imagery then using our service is a simple drop-in replacement," it says.
"We could add more data sources (both vector and raster), work on additional services such as static maps or geosearch, work on supporting all languages, switch to client-side WebGL rendering, etc.," the company says.