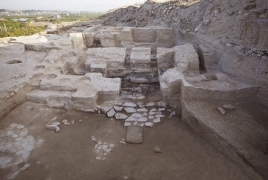 September 22, 2015 - 12:31 AMT
PanARMENIAN.Net - The remains of a 5,000-year-old adobe basement of a possible "throne" have been unearthed during excavations in Turkey, Discovery News reports.
Discovered in Aslantepe in the eastern Turkish province of Malatya, the structure consists of an adobe platform, raised by three steps above the floor, on top of which burnt wooden pieces were found.
"The burnt wooden fragments are likely the remains of a chair or throne," excavation director Marcella Frangipane of La Sapienza University in Rome, told Discovery News.
Frangipane, who has long been digging at the site, is working to bring to light a huge complex dating to the fourth millennium B.C. (3350-3100 A.C.)
The complex features two temples, storage rooms, various buildings and a large entrance corridor. Some walls are decorated with red and black motifs and with geometrical impressed patterns.
Within such building, the archaeologists unearthed the adobe platform. It stood in a small room which opened into the courtyard.
Frangipane believes the chief or king appeared in the throne room to give audience to the public, gathered in the large courtyard.
In front of the platform where the throne likely stood, the archaeologists also unearthed two small and low adobe platforms, probably made for people to stand on while they appeared before the king.