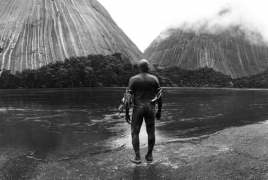 September 22, 2015 - 15:51 AMT
PanARMENIAN.Net - Abordar Casa de Peliculas has taken Spanish distribution rights to Colombian Ciro Guerra's adventure drama "Embrace of the Serpent", which competes at San Sebastian's Horizontes Latinos sidebar, Variety reports.
The "Embrace" deal was inked with French sales house Films Boutique at the recent Toronto Film Festival, where Abordar executives also acquired Spanish rights to French screenwriter Thomas Bidegain's helming debut, "The Cowboys," sold by Pathe Intl..
A black-and-white pic, "Embrace" tells the relationship between an Amazonian shaman and last survivor of his people, and two scientists in search for a sacred healing plant.
Produced by Colombia's Ciudad Lunar and acquired by Oscilloscope Laboratories in the U.S. market, "Embrace" won the top Art Cinema Award at the 47th Directors' Fortnight at Cannes.
Abordar plans a 2016 "prestige" theatrical release for "Embrace," in its original version in less than 60 theaters, CEO Juan Carlos de la Hoz told Variety at San Sebastian, adding that the company handles seven-to-nine film titles a year, all with theatrical distribution.
Founded in 2010 by Ramon Colom, prexy of Spanish producers org Fapae, Abordar integrates a holding group with tentacles stretching into theatrical and film and TV production, and offices in Barcelona and Madrid.
Company has increased its movie acquisitions investments from 2014, after a private group of Catalan inversors entered into Abordar's shareholding, De la Hoz said.
Hiking its financing muscle has allowed Abordar to acquire bigger film titles with potential crossover such as Pascal Plisson's documentary "Le Grand Jour," skedded to release in Spain on Jan. 22.
As another fruit of company's biggest film and TV ambitions, Abordar is eyeing the entry in international film co-production, with France or Latin America as preferential territories, he said.