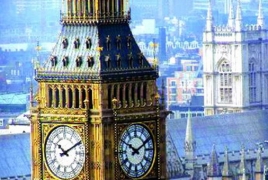 September 24, 2015 - 11:07 AMT
PanARMENIAN.Net - London has swapped places with New York to become the world's leading financial center, according to a detailed study of 86 cities, the Financial Times reports.
Michael Mainelli, chairman of the think-tank Z/Yen which produced the report, attributed London's better showing to reduced uncertainty following the general election, which produced a surprise win for the Conservatives.
"There was uncertainty about taxation, now that's gone away," he said.
One major area of concern was attitudes towards immigration, which "hasn't got better, hasn't got worse" but which has become a concern about all EU countries, not just Britain.
TheCityUK, the lobby group, said the ranking highlighted that "to keep on top we need to be flexible and adapt".
At the top of the rankings, Hong Kong, Singapore and Tokyo remained in places three to five. Mainelli cautioned that movements at the top end of the table were based on relatively small changes in the data used to calculate them.
In North America, New York, Toronto, San Francisco and Washington DC all made it into the top 10.