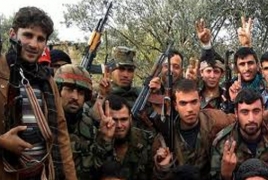 September 24, 2015 - 11:44 AMT
PanARMENIAN.Net - U.S.-trained rebels who recently returned to Syria said Wednesday, September 23, they have lost contact with one of their officers and that they are investigating reports that he defected and handed over his weapons to al-Qaida's branch in the country, the Associated Press reports.
The U.S. military said it had no indication that any U.S.-trained fighters have defected.
The allegations come only days after the group of about 70 rebels returned to Syria after training in Turkey as part of the U.S. program to train and equip rebels to take part in the fight against the Islamic State group.
Defection among the ranks of U.S.-trained rebels would be an embarrassment to the program, which has already been criticized as offering too little too late and failing to provide enough protection for those trained rebels once inside Syria. The selected rebels are said to undergo a thorough vetting process to ensure they focus on the fight against the IS.
In response to the allegations, the U.S. trained group, known as Division 30, posted a statement on its Facebook page saying it is investigating. If allegations are true, the group said, it will refer the officer in question to a military tribal on charges of treason because the weapons "belong to the Syrian people." The group acknowledged losing contact with the officer but denied any contacts with al-Qaida's affiliate.
Adding to the confusion, the officer, identified by Division 30 as Anas Ibrahim Abu Zayed, posted a statement on his Facebook page where he is identified as Anas Jalo, said he is no longer with Division 30 but works independently in the northern province of Aleppo. This suggested he was not working with al-Qaida's affiliate, though he did not specifically say so.