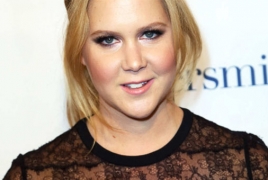 September 24, 2015 - 16:38 AMT
PanARMENIAN.Net - Amy Schumer has made a deal with Gallery Books to publish her memoir in late 2016. The publisher told The Associated Press that the book would be a series of comedic essays inspired by the Emmy-winning comedian's family, childhood and career, AceShowbiz reports.
The book will "feature personal and observational stories from Schumer that range from the raunchy to the romantic, the heartfelt to the harrowing," the publisher said in a statement. The publisher has yet to determine the book's final title but "Girl With the Lower Back Tattoo" was the working title used in the proposal.
Regarding her memoir, Schumer said in a statement released through the publisher, "I am thrilled to be working with Gallery. Believe it or not, there's actually more I have to say." The project was kept secret. According to The Hollywood Reporter, editors had to go to the offices of Schumer's book agent David Kuhn to read the proposal. There were eight publishers bidding on the project.
Entertainment Weekly reported the winning bid was in the range of $8 to 10 million. A source said that the final deal was at $9 million. It's significantly higher than books written by other comedians. Tina Fey got $6 million for her book "Bossypants" while Lena Dunham received $3.7 million for "Not That Kind of Girl".