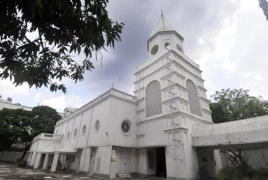 September 28, 2015 - 18:12 AMT
PanARMENIAN.Net - The custodians of the Armenian Holy Church of Nazareth in Burrabazar, perhaps the oldest church in the city, have been accused of destroying a number of tombstones and memorial plaques to make room for a driveway and a parking lot. The Archaeological Survey of India (ASI) termed the demolition as "criminal" since the loss is "irreparable," the Times of India reported Monday, September 28.
Pastor of Armenians in India, Very Rev. Father Zaven Yazichyan, however, refuted the news.
"The Armenian Holy Church of Nazareth of Kolkata was renovated in 2007-2008, as were all the tombstones," Father Yazichyan said. "No construction has been carried out in the territory of the church since the repair."
The priest said he was going to return to India in a couple of days and clarify the issue once and for all.
According to him, the church cemetery is being taken good care of and cleaned every day. The church has a parking lot, also renovated in 2007-2008, but not a single tombstone was removed or destroyed then.
Father Yazichyan also mentioned that the parking lot was situated north to the church, while the cemetery lies to its west.