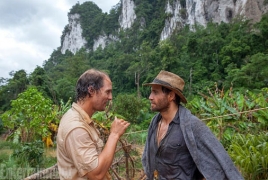 October 2, 2015 - 15:34 AMT
PanARMENIAN.Net - As production is underway on "Gold (2016)", a still has made its way online. The photo features Matthew McConaughey and Edgar Ramirez's characters discussing in a field as they embark on a venture to find the precious metal, AceShowbiz reports.
McConaughey looks sweaty donning an apricot shirt with a bald head. As for Ramirez, he wears a blue shirt and a Fedora hat with a grey thick cloth covering his shoulders.
The movie is based on a true story of the Bre-X Mineral Corporation mining scandal and is set in the early '90s. McConaughey stars as a businessman, Kenny Wells, who goes hunting for gold in the Indonesian jungle. Meanwhile, Ramirez portrays an equally desperate geologist who teams up with Wells for the mission.
Michael Mann ("Heat") was once attached to direct the project with Christian Bale tapped to star. After Mann left the project, Spike Lee then came aboard, but he also turned down the directing project. The film was ended up directed by Stephen Gaghan with Patrick Massett and John Zinman penning the screenplay.
Gaghan is considerably a capable filmmaker as he helped George Clooney win an Oscar for his supporting performance in "Syriana". He also penned the script of "Traffic" and "Abandon".