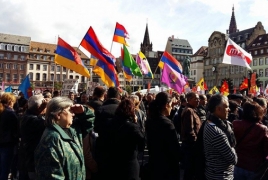 October 5, 2015 - 12:00 AMT
PanARMENIAN.Net - Thousands of people gathered at the Place Kleber, a square in central Strasbourg, France, to protest the Turkish President Recep Tayyip Erdogan's rally on Sunday, October 4, Today's Zaman reports.
A total of 57 civil society organizations participated in the demonstration, organized by the Federation of Alevi Unions in France (FUAF) and the Federation of Alevi Unions in Germany (AABF), on the day when Erdogan was going to address thousands of people in Strasbourg. The Turkish President visited the city to stage a rally as part of campaign in Europe, held under the motto "Millions of breaths, one voice against terror," apparently to denounce the recent rise in terrorist attacks by the Kurdistan Workers' Party (PKK).
In a speech at the demonstration, AABF Chairman Hüseyin Mat said that Erdogan had created chaos both in Turkey and the Middle East and was now trying to foment chaos in Europe. Mat added that Erdogan carries out AK Party propagandausing secret funds. Comparing Erdogan to Hitler, Mat pledged to strugle against the President until he is forgotten, just like Hitler.
Also addressing the protesters was FUAF President Erdal Kilickaya, who said that people had gathered to say "no" to Erdogan, who he said was dragging Turkey into a civil war through his hate speech and use of polarizing language.
Many commentators have suggested that the anti-terror rallies are being exploited by Erdogan and Prime Minister Ahmet Davutoglu as a platform to garner votes for the AK Party. Opposition groups in Turkey have long criticized Erdogan's rallies, claiming that he is openly violating Article 103 of the Constitution, which clearly states that the President must remain impartial while performing his or her duties.