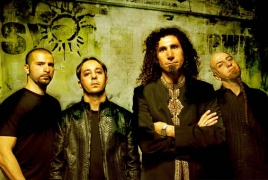 October 15, 2015 - 14:53 AMT
PanARMENIAN.Net - The Armenian-American musicians are the recipients of the 2015 Parajanov-Vartanov Institute Award, a prize named after groundbreaking filmmakers Sergei Parajanov and Mikhail Vartanov, who fought persecution for their work in the Soviet Union, according to Contactmusic.com.
Serj Tankian's band launched the 'Wake up the Souls' tour earlier this year to mark the Armenian Genocide centennial. Up to 1.5 million Armenians were systematically murdered by the Ottoman government during the Genocide. The tour culminated with the group's first ever show in the country the day before April 24, the beginning of the atrocity.
"The 2015 Parajanov-Vartanov Institute Award will honor the Grammy-winning rock band System of a Down for their virtuous commitment to justice exemplified by their historic 2015 'Wake up the Souls' tour," a statement from the Parajanov-Vartanov Institute reads.
The prize will be handed to the band at a ceremony in Los Angeles on October 21.
Previous recipients of the award include Hollywood director Martin Scorsese, who accepted the honor in 2014 for his work with The Film Foundation's World Cinema Project on the restoration of Parajanov's 1969 film 'The Color of Pomegranates'.