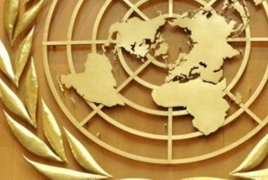 October 16, 2015 - 11:19 AMT
PanARMENIAN.Net - Five countries, representing five regions, were elected, unopposed, on Thursday, October 15, to two-year seats on the United Nations Security Council: Egypt, Japan, Senegal, Ukraine and Uruguay, the New York Times reports.
None of them will have any of the power or influence of the Council's five permanent members. But they could use their temporary positions to try to advance their own foreign policy priorities — or lash out at their rivals.
Ukraine is expected to use its seat on the Council to push for accountability for the downing of Malaysia Airlines Flight 17, for which it blames Russia, a veto-wielding permanent member. As a measure of the diplomatic rancor, Ukraine won the fewest number of votes: 177 out of a total 193 countries eligible to vote.
Japan could challenge its chief rival, China, also a permanent member, by raising the issue of human rights abuses in North Korea or trying to advance its own bid for a permanent seat on the Council.
Egypt is to serve as the Arab region's representative at a time when crises in that part of the world occupy a great deal of the Council's attention, including conflicts in Syria and Yemen and the Israeli-Palestinian crisis.
The five replace Chad, Chile, Jordan, Lithuania and Nigeria. Lobbying for those seats was muted this year, because they were uncontested. Still, there were gifts. Egypt's presents for diplomats who came to vote at the General Assembly included a deck of cards, with an image of the pyramids. Uruguay gave out soccer balls.