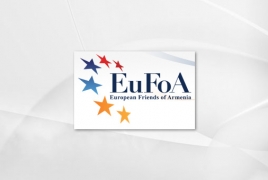 October 16, 2015 - 17:38 AMT
PanARMENIAN.Net - European Friends of Armenia (EuFoA) published a paper, analyzing the response of the European Union, Armenia and Middle East countries to the Syrian refugee crisis.
Armenia has taken in around 17 000 refugees since the start of the Syrian civil war. This makes it the third European country to have hosted the biggest number of displaced people from Syria after Germany and Sweden.
However, Armenia is the first European country in terms of refugees welcomed per capita: it hosts 6 Syrian refugees per 1000 inhabitants, more than Germany (1 refugee) or Sweden (4 refugee).
The sudden income of refugee has led to a lot of discussions and tensions inside the EU, with governments bargaining over refugee quotas. In contrast Armenian officials made it clear that the state should be ready to welcome refugees and that it should collaborate with international structures and different Armenian organizations to receive them, EuFoA said.
Though the majority of the Syrian refugees are ethnic Armenians, other minorities have also found refuge Armenia. The Yazidis, for example, face brutal persecution and ethnic cleansing at the hands of various terrorist groups, both in Syria and Iraq. Upon arriving in Armenia they have been granted asylum status.
"Everybody harps on the refugee crisis, forgetting Armenia, which is reminding the world what European solidarity really means," says Eduardo Lorenzo Ochoa, EuFoA Director. "By publishing this report we want to bring this to the attention of people and show that Armenia is really committed to European values."