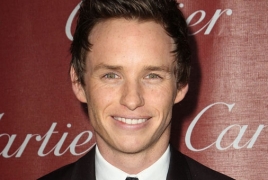 October 21, 2015 - 16:08 AMT
PanARMENIAN.Net - The first on-set photos of "Fantastic Beasts and Where to Find Them" have surfaced online as filming begins at St. Georges Hall in Liverpool. Although the "Harry Potter" spin-off is being shot in the UK, the movie will be set in New York City, AceShowbiz reports.
A lot of classic cars and vintage properties were spotted on the filming location near the iconic building. The cars were equipped with U.S. licence plates, which could help transform the city into a convincing replica of 1920s New York. Some actors were also seen dressing up in 1920s period outfits. According to sources, Liverpool is the only non-studio filming location.
"Fantastic Beasts and Where to Find Them" centers on Newt Scamander (Eddie Redmayne), the schoolbook's fictitious author in the Potterverse. The movie is set 70 years before Harry Potter reads Scamander's book in Hogwarts. It will also chronicle Scamander's adventures in New York, where he travels to discover and document more magical creatures.
Inspired by Hogwarts textbook of the same name, "Fantastic Beasts" is slated for a U.S. release on December 18, 2016. Redmayne leads the cast which also includes Katherine Waterston, Colin Farrell, Ezra Miller, Alison Sudol, Jenn Murray and Gemma Chan. David Yates serves behind the lens with J.K. Rowling writing the screenplay.