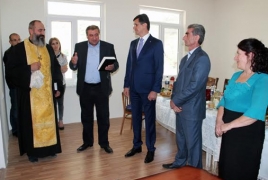 October 22, 2015 - 11:23 AMT
PanARMENIAN.Net - VivaCell-MTS and Fuller Center for Housing Armenia are building a house in Movses village of Tavush region for the Avalian family.
The Avalyans' house was destroyed by the 1988 earthquake. Artak, the father of the family, and his three sons have been trying to build a new house but had to stop the construction because of financial difficulties.
With Artak's sons now abroad, the family was included in the housing project financed by VivaCell-MTS and implemented by Fuller Center for Housing Armenia in spring of 2015.
The construction of Avalyans' house has been finished, with VivaCell-MTS General Manager Ralph Yirikian and the President of Fuller Center for Housing Armenia Ashot Yeghiazaryan participating in the housewarming ceremony.
Speaking to the family, Yirikian said everything should be done for residents of border villages to never desert their homes.
"Back in spring it was hard to believe that our house would finally be constructed, enabling my sons to come back from abroad," Artak Avalyan said.
VivaCell-MTS invested AMD100 million (AMD55 million in 2014) in the project in 2015, with Fuller Center for Housing Armenia implementing it.
The number of the families having their houses renovated or reconstructed will reach 93 by the end of the year.