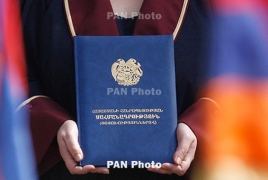 October 23, 2015 - 13:16 AMT
PanARMENIAN.Net - Parliament Speaker Galust Sahakyan sent invitations to the heads of international parliamentary structures to observe the upcoming referendum on constitutional amendments in Armenia.
Invitations were sent to Chairwoman of IPA CIS Council Valentina Matviyenko, President of the European Parliament Martin Schulz, President of the OSCE PA Ilkka Kanerva and PACE President Anne Brassuer.
Vice-President of the European Parliament refused to comment on the referendum, Tert.am reports.
Constitutional reforms are "Armenia's internal affairs," Ryszard Czarnecki said, adding that his intention is to not interfere.
"I do know that Armenia has issued an invitation to the Chairman of the European Parliament to send a delegation to monitor the December 6 referendum. This is a good idea, I think," Czarnecki said.
On August 21, President Serzh Sargsyan submitted the draft amendments to the Constitution to the National Assembly. The draft amendments had been developed by the Commission on Constitutional Reforms under Armenian President
According to the draft Constitution, the President is elected for 7 years instead of the current 5 and can only serve one term. The President should be a permanent resident of Armenia during the previous 7 years, instead of the current 10. The amendments ban the President from affiliation with a political party.
Article 125 of the draft Constitution sets the procedure of a presidential election. The President shall be elected by an assembly consisting of an equal number of Armenian parliament members and representatives of local government bodies, appointed by municipalities themselves.
The Prime Minister will become the supreme commander-in-chief of the Armenian armed forces during the period of military operations. He is appointed by the President, who, in particular, confirms the candidate nominated by the political force that won the National Assembly elections. No more than 18 ministries can be formed.
The European Commission for Democracy through Law (the Venice Commission) published on September 11 the second interim evaluation on the draft amendments to the Constitution of Armenia, promulgated by special commission on constitutional reforms under the country's President.
The commission's preliminary assessment includes the edited version of the 89th article of the draft amendments, which deals with the transition to the proportional electoral system and the formation of a stable majority in parliament.
Public debates on the draft Constitution were held until late July.