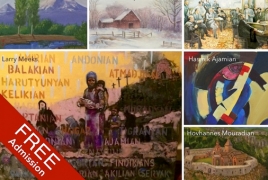 October 26, 2015 - 11:33 AMT
PanARMENIAN.Net - On November 6, 2015, a unique multimedia performance of "Travel with Me to Armenia" will be presented at the Plano Courtyard Theatre, in historic downtown Plano, Texas. The event is part of a series commemorating the centennial of the Armenian Genocide of 1915, which also includes a month-long art exhibit, Plano Profile reports.
The 90 minute performance will include solo piano pieces played by internationally known pianists; James Raphael and Satenik Muradyan Raphael, combined with talented St. Sarkis singers and dancers, Groung Dance Ensemble led by Kristina Kheshvadjian of Los Angeles, CA, combined with a multimedia show.
The performance is sponsored by the St. Sarkis Armenian Orthodox Church, a spiritual and cultural center of the Dallas Fort Worth Armenian community, located at 1801 Random Rd. in Carrollton, Texas.
The Plano Courtyard Theatre is also the venue for a month long exhibit of outstanding art works by Armenian artists with roots in Texas. The exhibit opened on October 15 and will run through November 7.
The exhibit is organized to bring awareness of the Armenian Genocide in the hope of preventing future genocides, and the artwork exhibited is homage to the sad loss of the Armenians and the jubilation of being a thriving community in this great country. Among the showcased artists are Texas native Larry Joe Meeks, Armenian native Hasmik Ajamian, NY raised Andrew Kourajian, Iranian Armenian Avedis Sookias, and Planoites Hovhannes and Davit Mouradians.