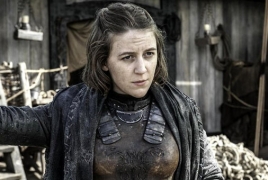 October 26, 2015 - 17:24 AMT
PanARMENIAN.Net - "Game of Thrones" star Gemma Whelan dishes on the upcoming sixth season where she is set to reprise her role as Yara Greyjoy. In an interview with the British Comedy Guide, she's asked the if the show is "truly off the books" now that the TV series has outpaced the books, AceShowbiz reports.
"Yeah, they've sort of," she responds, and quickly adds, "not run out of books really, but they've liaised with George R. R. Martin who writes the books, and gone off on their tangent, with his approval. So that's why people are even more interested in spoilers. It's funny isn't it, there's no other show like it."
Whelan realizes that there are so many prying eyes out there which make it impossible to keep details of the show secret. She says, "Even when I said I'm going to Northern Ireland on Wednesday to you just now, I thought 'oh god, maybe I shouldn't say that.' You really watch your back on everything - 'don't say too much.' But at least it's been leaked that I'm going to be in it, so I can talk freely about that."
"Game of Thrones" season 6 is currently in production for a spring 2016 premiere. Besides Yara Greyjoy who was last season in season 4, Brynden Tully a.k.a. The Blackfish (Clive Russell) and Edmure Tully (Tobias Menzies) who were last seen season in season 3 will reportedly be featured in the next installment.