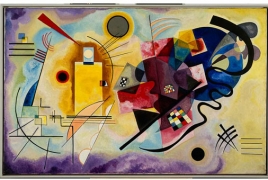 October 28, 2015 - 14:32 AMT
PanARMENIAN.Net - Nearly 150 years after the birth of Wassily Kandinsky (1866-1944), one of the greatest pioneers of abstract art, CentroCentro in Madrid celebrates his artistic and spiritual journey with an exhibition spanning four decades of artistic evolution from early figurative works to exuberant experiments in abstraction and color, Art Daily reports.
Produced and organized by CentroCentro in Madrid, the Centre Pompidou of Paris, and the Arthemisia Group, the exhibition is curated by the art historian Angela Lampe, curator at the Musée national d'art moderne Centre Pompidou, as a major monographic retrospective featuring around 100 paintings, drawings and photographs drawn from the rich collections of the Centre Pompidou. Almost all of these stunning works were part of the artist's personal collection and were given by the artist's widow, Nina.
Deeply impressed both by Monet's Haystacks series at the Moscow Impressionist exhibition of 1896 and the staging by Wagner's opera Lohengrin, Kandinsky abandoned a university career in law and economy to become, at the age of thirty, a painter in Germany. In addition to undertaking the classic course of studies under the guidance of masters such as Anton Azbé and Franz von Stuck in Munich, he travelled around Europe (even until Tunis in 1904/05) and stayed at Sèvres near Paris from 1906 to 1907 (Park of Saint-Cloud, 1906). He developed an artistic vision encompassing numerous fields, including painting and music, in which he pursued and championed what he defined as "the spiritual in art" in the essay of that name, written between 1904 and 1911 to encapsulate his ideas.
The sections of the exhibition retrace the key periods in Kandinsky's life, from the early years in Germany to those in Russia, the return at the Bauhaus in Weimar and then the last years in France, through a host of crucial works such as Old Town (1902), Chanson (1906), Improvisation III (1909), In Grey (1919), Yellow-Red-Blue (1925) and Sky Blue (1940).
The exhibition develops in chronological order in four sections over eight rooms.