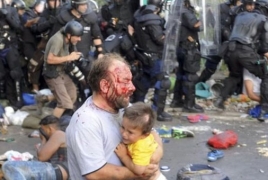 October 29, 2015 - 10:11 AMT
PanARMENIAN.Net - Austria has said it is planning to construct a fence at the main border crossing used by migrants entering the country from Slovenia, BBC News reports.
Austrian Chancellor Werner Faymann said the move would not shut the border, but would allow better control of arrivals.
According to BBC, Austria and Germany, the two countries at the heart of Europe's refugee crisis, seem to be toughening their tone.
They appear to be trying to deter refugees from setting out on their journeys and to head off political critics at home.
The UN estimates more than 700,000 migrants have crossed to Europe by boat so far this year - mainly from war-ravaged Syria. The approach of winter has so far done little to slow the flow.
The latest moves came after Slovenia said it could erect a fence along its border with Croatia if an EU plan agreed on Sunday, October 25 was not implemented. It follows suggestions from Serbia, Romania and Bulgaria that they might begin building their own barriers.
Some 85,000 refugees have poured into Slovenia in the last 10 days, after Hungary closed its border with Croatia.