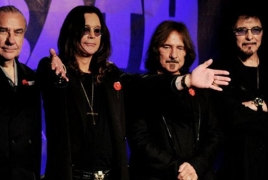 October 29, 2015 - 17:08 AMT
PanARMENIAN.Net - There won't be another Black Sabbath album after all. After announcing last year that they would do another record before bidding farewell to their fans, the band has now revealed that they've scrapped plans to work on what's supposed to be the follow-up to 2013's "13", AceShowbiz reports.
"It's the end of Sabbath, believe me," the group's frontman Ozzy Osbourne recently told New Orleans' Times-Picayune in an interview he did while preparing himself for a solo appearance at the city's Voodoo Fest.
A rep for the band has also spoken out about the canceled LP, confirming to Rolling Stone that Osbourne and Co. "have opted out of recording another studio album" and instead would focus on their farewell tour, aptly dubbed "The End", which is scheduled to open with a string of North American dates starting in January 2016.
Black Sabbath's "13" was their 13th studio effort in their more-than-four-decade career. The project gave them their first No. 1 album on Billboard 200 when it debuted atop the list back in 2013.
The band talked about doing its follow-up in a 2014 interview, saying they'd reunite with "13" helmer Rick Rubin and drop their final album "sooner rather than later." "Obviously a lot of it is coming down to [guitarist Tony Iommi's] health, he's obviously got his cancer treatment, but we'll get onto it next year. I don't know if we'll be writing in England or L.A., but I'll fly to the moon for it if I have to," Osbourne said back then.