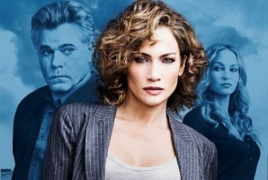 October 29, 2015 - 17:37 AMT
PanARMENIAN.Net - NBC has set a premiere date for Jennifer Lopez's "Shades of Blue". The crime drama series, which also stars Ray Liotta, is set to bow on Thursday, January 14 at 9 P.M. with a two-hour episode directed by Barry Levinson, AceShowbiz reveals.
The police procedural will then move to its regular time slot starting January 21 at 10 P.M., behind the network's hit "The Blacklist". "Shades of Blue" will succeed freshman "The Player" whose episode order has been trimmed from 13 to 9 episodes.
"We're so excited to have locked in a premiere date and can't wait to show audiences what Jennifer and the rest of this incredible cast delivers in this compelling new drama series," NBC Entertainment president Jennifer Salke said when announcing the premiere date.
"Jennifer's role as Det. Santos is a tour de force. She carries herself with incredible grit and toughness, yet at the same time heartbreaking vulnerability. We are thrilled that NBC is the network to bring this iconic actress and star to series television."
"Shades of Blue" centers on Harlee McCord (Lopez), a single mother and dirty cop recruited to work undercover for the FBI's anti-corruption task force. Part of a close-knit unit known for its conviction record, Harlee has become compromised by her colleagues - all of whom also pitch in to help raise her daughter - and finds herself faced with the moral dilemma of working against her cop brothers in order to redeem herself.
Liotta portrays Lt. Matt Wozniak, who "often leads the team to step outside the limitations of the law in order to effectively protect their precinct and their own," while trying to figure out the identity of the informant.