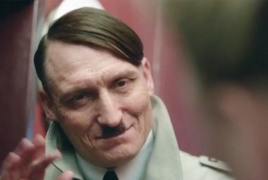 October 29, 2015 - 18:22 AMT
PanARMENIAN.Net - A comedy about the return of Hitler has stormed to the top of the German box office, knocking Pixar's Inside Out off the number one spot, Digital Spy reports.
Look Who's Back is based on the satirical novel by Timur Vermes and has already made around $13m.
Shot in the same style as Borat, it follows Hitler as he wakes up in present-day Berlin, with no memory of the events after 1945.
Although no one believes he's the real thing, his YouTube rants soon develop a mass following, and land him his own TV show.
"Germans should be able to laugh at Hitler, rather than viewing him as a monster, because that relieves him of responsibility for his deeds and diverts attention from his guilt for the Holocaust," director David Wnendt told The Guardian.
"But it should be the type of laugh that catches in your throat and you're almost ashamed when you realise what you're doing."